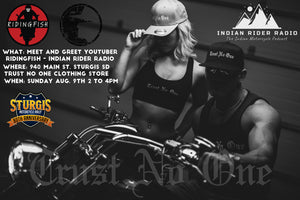 2020 Sturgis Motorcycle Rally with Trust No One Clothing
Join us this year at the 80th Annual Sturgis Motorcycle Rally!  August 7th-16th.  
Our store is located at 940 Main Street downtown Sturgis South Dakota.
Sunday the 9th, Ridingfish (YouTuber) will be by from 2 to 4pm to meet and greet and talk about Indian Motorcycles along with Indian Rider Radio!
We are introducing a couple new T-shirts this year along with some very unique women's leggings.

All our Trust No One favorite designs will be there and of course the Guardian Blade hats.
  
The final weekend of the rally we will have Spencer, our body painter, on site to get yourself 'painted'!
Looking forward to seeing everyone!  Send messages through our Facebook page:
---
1 comment