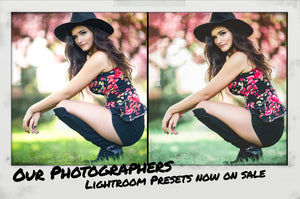 Lightroom Presets Now For Sale
Purchase the Airy Portraits Lightroom Preset Package here!

For years I missed shooting with film and the looks I was able to achieve that seemed to be lost with digital photography.  I wanted to recreate the tones of shooting with Fuji Pro 400H film, the soft airy pastels and crushed blacks.  After many years of shooting digital and using Adobe Lightroom I have created presets that emulate the light airy look I have missed.  The Airy Portraits Preset Collection contains 6 sections of tools to process your image and create that soft pastel look.

Section 1 - Base Presets.
12 Color Film Base Presets.
4 B&W Film Base Presets.
Section 2 - Light Adjustments.
Use these 6 light adjustment presets on top of your base to adjust your look.
Section 3 - Grain 
Next add or remove film grain.
Section 4 - Vignette
A soft black or white vignette tool.
Section 5 - Muted Black Tool
Add that muted soft black look with these 3 different presets.
Section 6 - Sharpen
Sharpen your image to finalize it for print or web.
Our presets come with installation instructions and 30 minutes of phone support.  
Original Photo


Photo with Bordeaux Base Preset with softer highlights and light muted black options. 

Photo with B&W Muted Base and softer highlights and low grain options.


Original Photo
Photo with Light and Natural Base Preset with softer shadows and low grain options. 


---