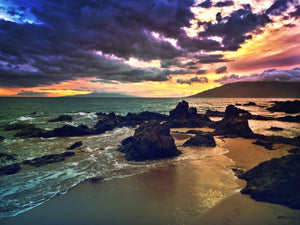 Maui Day 2
Day 2 in Maui was amazing.  Started my day with walking down the beach to a cafe where I had an amazing breakfast. I ate outside where I found out my company would be birds and chickens. All very friendly but turned out they just wanted me for my food. Other than the beggars at my feet the breakfast was amazing. Something about drinking fresh squeezed orange juice sitting out next to the ocean that just makes you feel alive. 
Across the street from the cafe is a beautiful park along the ocean. The grass feels so soft and well groomed that it feels like a putting green. There were tons of people out surfing, the majority of them taking lessons from the locals who setup shop in the parking lot of the park.
After my walk I went home and we got ready for our first photoshoot. We decided to shoot here in Kihei where there is a gorgeous sunset and beautiful black lava dotted along the beach which makes a perfect backdrop and location for Photos. I can't wait to get to edit them and share them with you. 
---
1 comment