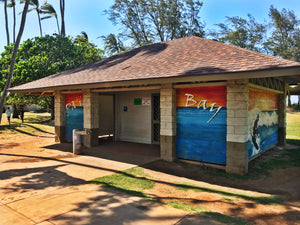 Maui Day 3
Third day in Maui I went out and did some exploring on my own. First place I went was a town called Paia on the north side of the island. Town feels like older Maui, the buildings and stores look a older and a bit more run down from what I have seen in Kihei where I have been staying. I feel it's age gives it charm though. There are many stores with souvenirs and clothing as well as many restaurants. I walked around and took photos of Paia then decided to go to the beach. 
The beach wasn't crowded and of course was gorgeous  I snapped some photos and went in the water for a bit.  The water was nice and warm and there was a nice cool breeze.  
After swimming I started to feel a little hungry so I walked back into town and found a cute little restaurant called Milagros Food Company.  I had a delicious cheeseburger and a couple margaritas  the staff were very friendly and told me about a nude beach in Paia right next to where I was so out of curiosity I had to check it out.
The nude beach is a little off the beaten path but not hard to get to.  You just take a little trail from the parking lot through a little patch of trees.  The first thing I noticed wasn't naked people but an old WW2 pillbox that still stands on the north shore of Maui (Paia Bay). There are conflicting accounts as to weather these were built in training exercises or if they were actually built to defend Maui. Either way, they are a unique part of Maui history and stand to remind us of a war time that is not so far in the past.  Oh and yes I did see a couple naked people which felt natural and no big deal to anyone.  
After Paia I drove over to Lahaina which is where all the major hotels and tourist areas are.  The drive was gorgeous but Lahaina just felt like a city in San Diego to me.  Not being too impressed I decided to drive back to Kihei and have dinner.  After dinner I went to the pool and hung out with some new friends I met, had a few drinks and laughs and then hit the hay.  I'm starting to feel it would take years to see everything here and wish I had more time.  
---