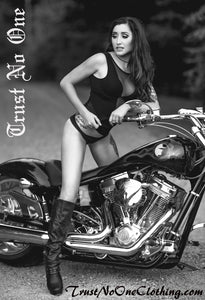 Sturgis Motorcycle Rally 2017
What a great start to our second year in Sturgis South Dakota with Trust No One!  If you are attending the Sturgis Motorcycle Rally this year, stop by our booth and say hi!  We've added some great new designs for you and brought the Trust No One girls as well!  They are selling prints of their photo shoots with the Trust No One Motorcycle, and we are also offering custom prints using YOUR bike and one of the Trust No One girls!
The Trust No One girls with our friend Dave just outside our store in downtown Sturgis South Dakota!
Trust No One Girl ~ Lauran
Trust No One Girl ~ Mikaela
Trust No One Girl ~ Alyssa
This shot taken at the Pactola Reservoir in South Dakota
Trust No One Girl ~ Lauryn
We will post more pictures while we are in Sturgis!
~Trust No One
---