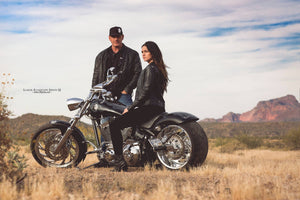 The Trust No One Bike
When Trust No One first started doing conventions, bike shows, and rallies, I knew we needed something to show off the brand and draw attention.  I decided to take my American Ironhorse chopper, (Slammer model), and remake it to represent Trust No One! The images I chose for the bike reflect Trust No One's motto, but it's open for interpretation. In fact we'd love to hear from you and your Trust No One story.  We'd love to publish your story as well. 
Automotive Illusions in Ham Lake Minnesota was recommended to me for their expertise in car and bike painting etc.  I didn't know what to expect, but I gave them my ideas of what I'd like it to look like and they out did all my expectations!
Here's the bike before it was torn apart!
Then it became this...
Then it started to come together...
I saw these pictures of it torn apart and the black paint....and Andy at Automotive Illusions would not send me another one till it was finished (as much as I kept asking).  My next view of the finished bike completely blew me away! 
We left the next day for Arizona Bike Week and did a couple photo shoots with the bike (thanks to Samuel Erwin at Thurber Studios for the amazing photography!)  (Samuel is also part of the Trust No One team)
Here's some samples from the photo shoots!
Thank you to everyone that came out to the Trust No One booth in Scottsdale Arizona!  We will see you next time, and look for us at upcoming events to be announced soon!
-Erik
---