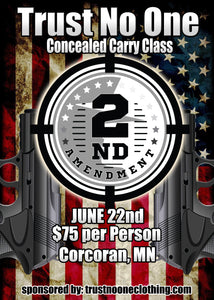 Trust No One Permit to Carry Class
TRUST NO ONE MN CONCEAL CARRY CLASS
Trust No One is proud to partner with Generations Firearms to bring you the opportunity to take your Minnesota Conceal/Carry Permit Class!
Where: 22060 Strehler Road, Corcoran, MN 55340
When: June 22nd, 1pm (Class takes approximately 4 hours)
Who: D.J. Schilling will be your certified firearm instructor.  He also has an FFL
Click the RED link below, choose whether you need a weapon/ammo for the class, submit payment.  You'll receive a receipt in your email.  You'll also receive more information by email about a week before the class!
As a bonus for signing up you'll receive the entire course on a flash drive to take home with you and a Trust No One Lanyard.
Course Outline:
-Basic Info
-Choosing to Carry
-Handgun Basics
-Ammunition
-Shooting Fundamentals
-Concealed Carry
-Carry Permit & Law
-Effects on person after Self-Defense Shooting
-Shooting Qualifications
-Weapon and ammunition are available for $10 extra if you don't own any or don't   want to use your own. 
If you have any questions please email: Erik@ThurberStudios.com
About the Instructor:
D.J. Schilling is a certified Firearms Instructor in the state of Minnesota. He has been teaching for several years, hosting the class for years prior. He is an avid hunter, shooter, and sportsman. D.J. is also a Federal Firearms Licensee dealer.
Everyone has a right to defend themselves, and those they love. However, not everyone feels comfortable being trained from a military or extreme tactical mindset. With that in mind, D.J. tailors his classes so every skill level is comfortable. D.J. has worked with beginners getting their permit for the first time, all the way to seasoned shooters renewing their permit. Self Protection is a basic right, a need to feel secure. With that right comes responsibility. Aside from the permit classes, D.J. also teaches MN High School Trap Shooting, and is the Captain of his church's volunteer Safety Team.
"Train for the possibility, not the probability" -Clint Smith
---