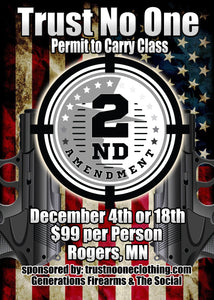 Trust No One Permit to Carry Class
Trust No One MN Permit to Carry Class
Trust No One is proud to partner with Generations Firearms and The Social to bring you the opportunity to take your Minnesota Carry Permit Class!
Where: The Social, 14165 James Rd #106, Rogers, MN 55374.  Range Qualification will be held after the class portion at Target Sports MN in Rogers.
When: December 4th or 18th, 10am (Class takes approximately 4 hours) Plus Range Qualification
Click the purchase link to submit payment.  You'll receive a receipt in your email.  You'll also receive more information by email about a week before the class!
Additional Costs: Range fees are $20/person, payable to the range. Rental firearms available for $15.  You are also welcome to bring your own firearm & ammo. Ammo is available for purchase.
Limited Seating, so purchase your tickets NOW!
This class is required to obtain your MN Permit to Carry, and obtain your renewal.
Course Outline:
-Basic Info
-Choosing to Carry
-Handgun Basics
-Ammunition
-Shooting Fundamentals
-Concealed Carry
-Carry Permit & Law
-Effects on person after Self-Defense Shooting
-Shooting Qualifications
If you have any questions please email: Erik@ThurberStudios.com
---