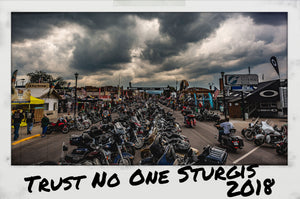 Trust No One Sturgis 2018
Photos from Sturgis 2018


Aaron working on setting up the Trust No One booth.  This year we were at the same location at 900 Main Street.


The day before sturgis started the streets looked more like a normal city. 

Erik brought out the Trust No One show bike.  As always it got a lot of attention.  

This year we teamed up with Salty B. Swimwear and sold their products.  

As always we enjoy what we do and have fun doing it.  This year we brought out corn hole, or bags, or whatever you like to call it.  
Aaron and Shay got matching Trust No One Tattoos and hooked up the artist with some Trust No One swag which he represented for us!

Jayson learning how to make our Guardian Blade hats with Erik.

As always there were some awesome bikes to check out!

Cool panorama of Main Street in front of the Trust No One booth.

We got hit with a storm that took down some booths around us.  

Sturgis sunsets always make for great photos.  Lauryn and Jayson out to go get some food.

There is always cool body paint to see at Sturgis.  This one was a favorite.  

We always appreciate return customers.  These two stopped by again this year and she was rocking one of our bandanas!

The lineup.

Spencer came out this year and did body painting at our booth.  

Of course there was plenty of weird things to see if you walked the streets of Sturgis.

Our friend Dan came out and documented everything we were doing.  He produced some amazing videos of Sturgis this year!

We are now official retailers of Blenders Eyewear.  Here is Ashlee rocking a pair. 

Some friends always find us at our booth.  

At night we get to go see some awesome concerts at the Iron Horse Saloon.  Here is Lauryn ready to go party!

As always Skully makes an appearance and likes to take the bike for a spin to Deadwood.

Thanks for checking out the photos.  Be sure to check out our facebook page and Circle of Trust facebook group for more photos and videos. 
---
3 comments