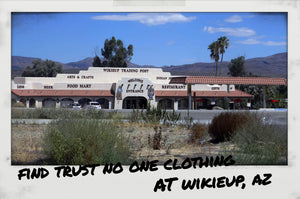 Trust No One Retail Store in Arizona
We are very proud to announce our first retail partner! Wikieup Trading Post!
Established in 1962, the Wikieup Trading Post is an oasis along the historic Route 66.  We are very excited to announce the Wikieup Trading Post as the first retail partner to carry the BOLD & UNAPOLOGETIC clothing line: Trust No One!
The Wikieup Trading Post is an Oasis between Phoenix Arizona and Las Vegas Nevada.  Not only is there a gift store with hundreds of unique items, including Trust No One Clothing, but there is a full service restaurant, liquor store, fuel station, and even a small motel.  If you live in Arizona and travel through Wikieup, please stop in and say hi and pick up some new Trust No One attire!
They are located off Highway 93 in Wikieup...you can't miss 'em!
---
1 comment